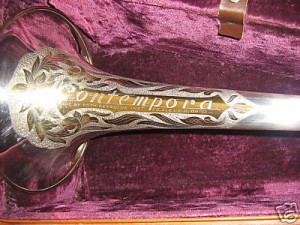 A current listing on eBay has what claims to be a sterling silver bell Contempora trombone. Here is the listing description:
Offered here is a VERY RARE Cleveland OH made Reynolds Contempora Professional model trombone featuring a Sterling Silver  8 1/2″ Bell, .520 bore, the remainder of the instrument is in nickel silver.  As you can see from the many pictures this instrument is in great used condition, I believe you will have a hard time finding another one like this in this kind of condition. The inner slide has no wear thru and the slide action is very nice. I do not see any issues that need attended to but since this is a old/used instrument I recommend that a repair technician go over/service it. The original coffin case is included and is in great shape. There is no mouthpiece.
"Very rare", indeed – there is no mention of a sterling silver bell Contempora in any of the catalogs I've seen. The serial number is 38406, which would be around 1955. And this isn't a simple matter of a Professional bell being used with the Contempora engraving – if the eBay description is accurate, this is a 8½" bell, larger than the 7½" bell of the Professional line.