Foster Reynolds left H.N. White at the end of 1935 and created the F.A. Reynolds Company the following year. At the same time a subsidiary business, the Ohio Band Instrument Company, was established. Ohio Band is specifically mentioned in a March 1936 article in the Cleveland Plain Dealer newspaper announcing the new companies. On August 28, 1936, the same newspaper reported that the Ohio Band Instrument Company had incorporated, with 200 shares distributed between Foster A. Reynolds, his brother Harper A. Reynolds and Alban "Max" Scherl.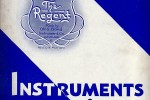 For the first few years, Ohio Band's primary instrument line was The Regent. Ohio Band offered a full catalog of Regent brass and woodwind instruments and band accessories, including stands, mutes, mouthpieces, reeds, etc. exclusively to dealers in the school band market, a business model that Foster Reynolds was well familiar with from his work with H.N. White's Cleveland Band and American Standard divisions. With instruments being made on the same factory floor as F.A. Reynolds Co., Ohio Band produced approximately 5000 horns/year, a little more than twice the rate of F.A. Reynolds instruments.
Compare Ohio Band's catchphrase "Instruments of Quality" with the F.A. Reynolds slogan "Instruments of Distinction".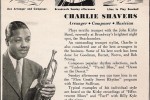 By no later than 1940, a "Roth Band Instruments" line of trumpet, cornet and tenor trombone was also being produced under the Ohio Band label in addition to the Regent line. Considering Max Scherl's financial investment in Ohio Band, it seems undeniable that these instruments were made for Scherl & Roth, perhaps as part of that company's push into the school orchestra market. An Ohio Band print advertisement from 1940 features a youthful Charlie Shavers in a variety of contemporary settings that would appeal to younger musicians. I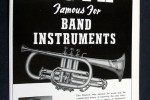 n 1942, the Roth instruments appear directly in a Scherl & Roth advertisement featuring Rudy Novak, solo trumpeter in the Paul Whiteman band.
In addition to the Regent and Roth brands, Ohio Band made horns under the Paramount and Grenadier model names. However, little is known about these instruments.
In c.1946, Foster Reynolds and Harper Reynolds evidently sold their shares of the operation to Max Scherl and/or the Scherl & Roth Company as Max Scherl is referred to as president of the F.A. Reynolds Band Instrument Co. in a July 1946 newspaper listing. Business continued for both F.A. Reynolds Co. and Ohio Band Instrument Co. until c.1950 when the last Ohio Band-branded instruments were produced. The Roth trumpets, cornets and trombones were rebranded under the F.A. Reynolds name, later Roth-Reynolds, and became the core of the budget/student model line in the consolidated catalog.
After the early 1950s, the only remaining evidence of the Regent name in the Reynolds catalog was the Regent Silver Clarinet, which was probably retained to compete against H.N. White's SilverTone clarinet model.