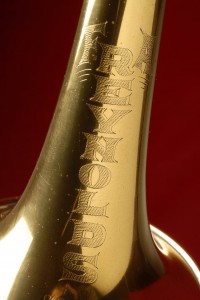 Based on the considerations of my last few serial number-related posts, plus external confirmation on the timing of some engraving style changes, I've updated the primary serial number table for Reynolds instruments, as well as the dates on the Reynolds engraving styles page and specification pages for F.A. Reynolds trumpets, cornets and trombones.
The key data point is that the change in engraving styles to the style shown at right on these instruments occurred in late 1945 or 1946, rather than c.1942 as previously projected. Based on documented horns, the change occurred around SN 9000.
In addition to meaning that fewer horns were made in the first ten years than previously thought, the primary takeaway is that there was a rapid acceleration in the manufacturing rate after Scherl & Roth took over in 1946, going from SN 9000 to ~21000 in the spring of 1949 when the first Contempora instruments were made.