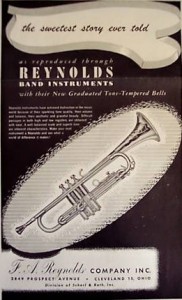 I recently acquired a 1946 newspaper ad that contains a number of interesting nuggets: first, the note at the bottom that Reynolds was a division of Scherl & Roth — this is consistent with a July 1946 newspaper reference to Max Scherl as president of F.A. Reynolds, the position formerly held by Foster Reynolds. It seems to be confirmed that Foster Reynolds had either left or stepped away from running the company by mid-1946.
Second, note the illustration of the trumpet. While the bell is only shown from the side, the engraving style is consistent with Reynolds' earliest instruments. For trumpets, cornets and trombones, there are two key engraving styles on F.A. Reynolds instruments, with a change occurring around SN 9000, which would be c.1942-43 by my serial number estimates. However, this is a 1946 advertisement, meaning that either an old trumpet illustration was still being used or that the change in engraving styles happened later than previously estimated.
Let's speculate that the engraving style change actually happened around the time of the ownership change in 1946. That would push SN 9000 to 1946 for an average of ~900 instruments/year in the company's first decade, keeping in mind that Reynolds' subsidiary Ohio Band was producing a much larger number of school-grade instruments on the same factory floor, presumably with the same workforce.
Most of the Reynolds instruments that have been documented with SNs between 4000-9000 were made for the USAAF military bands – these would still fit into an appropriate time window from c.1940-46. Further, if SN 21000 remains fixed to the end of 1949 and the introduction of the Contempora brand, that would mean that the manufacturing rate increased to ~3500 horns/year between 1946-1949.
Given all of the above, the early serial number chart might look like:
Serial No.
Date
Notes
0001
1936
F.A. Reynolds name first used in commerce in February 1936.
1800
1938
3600
1940
Many instruments with SNs 4xxx-21xxx with the "US" bell engraving and/or documented wartime purchase.
5400
1942
7200
1944
9000
1946
F.A. Reynolds Co. becomes a division of Scherl & Roth by mid-1946.
16000
1948
The Contempora brand was introduced in late 1949 according to U.S. trademark applications; the earliest recorded Contempora instrument is SN 21025.
23000
1950
30000
1952
Instruments start to be branded "Made by Roth-Reynolds" instead of "Made by F.A. Reynolds".
As I've noted on the serial number pages, using serial numbers to identify the exact production dates of Reynolds instruments is inherently inaccurate because so much speculation is involved. All of the above is based on a specific illustration style appearing in a specific print ad on a specific date, which seems specific enough, however the caveat is that old illustrations were still appearing in Reynolds catalogs during the 1950s, making it difficult to make definite proclamations regarding manufacturing dates.
That said, the later F.A. Reynolds engraving style (with a vertical "F.A. Reynolds" in block letters) does appear in a 1949 print ad…