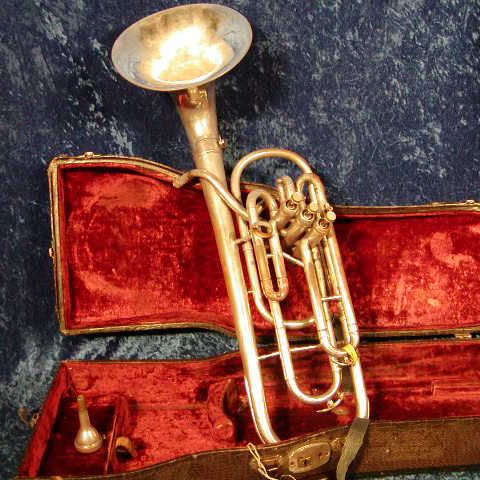 The Tromhorn had the tube length and bore size of a tenor trombone, but wrapped in the appearance of a baritone. It was intended to serve as a replacement for the jazz-oriented valve trombone in concert and marching bands. The Tromhorn was seemingly based on the King Trombonium produced by H.N. White and was produced from the mid-late 1950s through Reynolds' last few years at the Cleveland factory.
Roth-Reynolds (Cleveland, Ohio)
A completely new tenor sound for band and brass ensemble, Contempora Tromhorn is ideal for both concert and marching band performances. Built in B♭, graceful design, the Tromhorn can be easily mastered by brass players. Accurate intonation. Includes deluxe case and accessories.
RMC/Reynolds (Cleveland, Ohio)
Sometime after Richards Music purchased Reynolds in 1961, the product catalog was reorganized. Old model numbers were replaced with a new scheme that incorporated an abbreviation for the type of instrument, e.g. "FE" for French Horn, and a hierarchal numbering system that reflected the grade of instrument, e.g. "01" for top-level artist instruments, "56" for student horns. To the best of knowledge, the instrument specifications did not change, just the model numbers. The new numbering system was used for the rest of the company's history.
It's unknown if Reynolds continued to make the Tromhorn after Richards Music purchased the company. The model does not appear in a c.1963 catalog.
The purpose of this website is to preserve the history of the F. A. Reynolds Company and the distinctive qualities of its brass instruments. Contempora Corner and contemporacorner.com are not related or associated in any way to the former or current F.A. Reynolds Company.