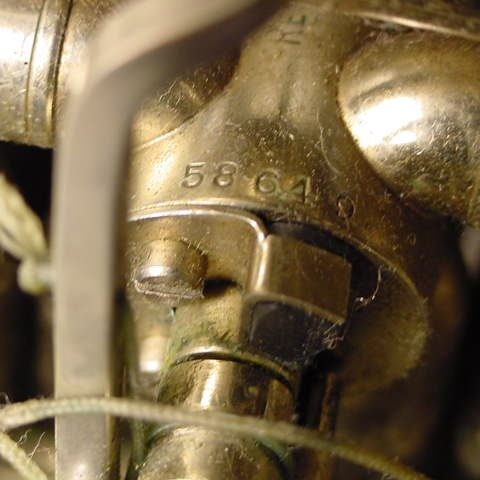 Please note: Except for a fragment of late production data from 1964-1979 that was preserved in the Allied Band Supply catalog, I am not aware of any surviving official records for serial numbers of Reynolds band instruments. Due to the lack of these records, identifying an exact manufacture date for any given serial number is inherently inaccurate.
The serial numbers and estimated dates presented below are based on the visual observation of engraving patterns and design and trim details on hundreds of instruments that I've cross-referenced against catalog illustrations and descriptions and historical company information. While an exact date may never be able to be accurately verified for any given serial number, I believe that the general progression of these lists is defensible and represents Reynolds instruments through the company's history.
Where do I find the serial number on my instrument?
Reynolds serial numbers are typically found in the following locations:
Piston valve instruments (trumpets, cornets, baritones, tuba, etc.)
The serial number is stamped on the 2nd-valve casing. Earlier instruments (pre-1965) are stamped horizontally; later instruments may be stamped vertically along the valve length.
Trombones
The serial number is located on both the slide handpiece and the bell section, both near where the two pieces join together.
French horns (and other rotary valve instruments)
The serial number is located on the 2nd-valve casing, typically near the valve arm assembly.
My serial number is much higher than what's listed?
In 1970, manufacturing was consolidated at F.E. Olds in Fullerton, Calif. after CMI sold the Abilene (Texas) plant to Conn. The F.E. Olds and F.A. Reynolds lines began to merge and instruments for both came off the same production lines. There are many examples of these later Reynolds instruments with F.E. Olds serial numbers, e.g. higher than 600000. There are number of Olds serial number charts available; see this one for example.
Still have a question?
Please use the Contact form for any questions not answered here.
The purpose of this website is to preserve the history of the F. A. Reynolds Company and the distinctive qualities of its brass instruments. Contempora Corner and contemporacorner.com are not related or associated in any way to the former or current F.A. Reynolds Company.