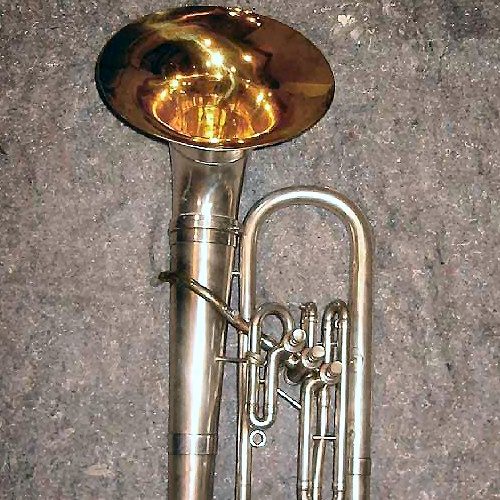 Introduced in the first half of the 1950s, the Roth baritone was the fifth member of the Roth instrument line, after the cornet, trumpet, tenor trombone and flute. As with other Roth models, it was positioned as a value-focused student instruments against the advanced Contempora and Diatonic model baritones.
Roth-Reynolds (Cleveland, Ohio)
Newest member of the Roth family — the Roth Bell Front Baritone! A truly remarkable instrument with tremendous power and tonal color. Built for effortless playing and execution of intricate solo passages perfectly in tune. Sturdy and hand-lapped valves are made of solid nickel silver, for years of dependable playing. Detachable bell. Symbolizing the outstanding value of all Roth instruments, the Roth Baritone is priced amazingly low.
Model 350
Roth Baritone
Bore: TBD" Bell: TBD" removable, front-facing bell Valves: three side-action piston valves, solid nickel silver Materials: brass with nickel-silver trim Finish: polished brass with clear lacquer finish; optional silver plate with silver bell finish
Model 352 with silverplated gold bell finish:
RMC/Reynolds (Cleveland, Ohio)
Sometime after Richards Music purchased Reynolds in 1961, the product catalog was reorganized. Old model numbers were replaced with a new scheme that incorporated an abbreviation for the type of instrument, e.g. "BR" for baritones, and a hierarchal numbering system that reflected the grade of instrument, e.g. "01" for top-level artist instruments, "56" for student horns. To the best of knowledge, the instrument specifications did not change, just the model numbers. The new numbering system was used for the rest of the company's history.
It appears that the Roth baritone was rebranded as an Emperor horn. Model numbering is consistent with documented Roth models of other instruments produced under RMC ownership, e.g., the Roth cornet, CR-56.
The purpose of this website is to preserve the history of the F. A. Reynolds Company and the distinctive qualities of its brass instruments. Contempora Corner and contemporacorner.com are not related or associated in any way to the former or current F.A. Reynolds Company.