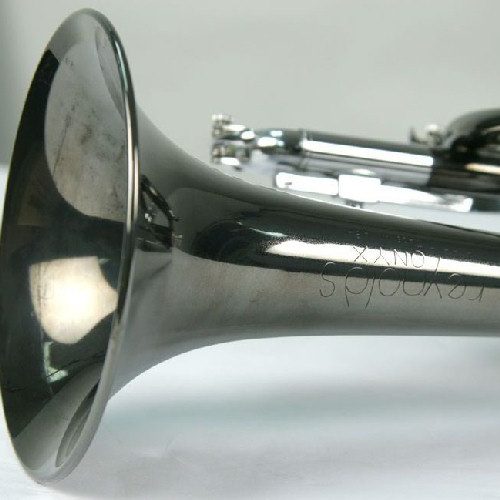 The Onyx cornet was produced at the Olds plant from 1974-75, replacing the solid nickel-silver Argenta model in the catalog for two years before being discontinued. Onyx models featured a black finish over nickel-plated brass areas of the horn; the dark color contrasted with the polished nickel silver used on the tuning slides and trim areas.
Reynolds (Fullerton, Calif.)
Designed for the cornet player who desires a dark, mellow tone, the Onyx Cornet is an outstanding professional instrument that has been precision engineered for greater agility and tonal response. Top-loaded, inner-sprung pistons insure rapid valve action that affords immediate response for added versatility. The first-valve thumb hook provides for more precise control on intonation while the five inch bell flare helps project a rich, full sound. This instrument features a pure, deep black Onyx finish with nickel silver outer tubes and trim. Complete with deluxe instrument luggage.
The purpose of this website is to preserve the history of the F. A. Reynolds Company and the distinctive qualities of its brass instruments. Contempora Corner and contemporacorner.com are not related or associated in any way to the former or current F.A. Reynolds Company.