In the summer of 1964, Chicago Musical Instrument Co. purchased the assets to F.A. Reynolds Co. at auction and announced that the company would move to Abilene, Texas, combining operations with another CMI purchase, Caldwell Music Products.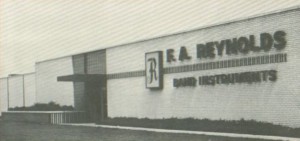 To accommodate the Reynolds operations, CMI spent $1 million to expand the existing Caldwell facility and construct a new 75,000 square foot plant nearby, bring the total area to nearly 100,000 square feet. The new white brick building was compared by one AP reporter to a single-level airplane assembly hanger (without the automation).
Through a combination of new machinery and equipment moved from Cleveland in August 1964, Caldwell estimated that the new plant would "house approximately a half million dollars worth of equipment." CMI considered the new plant to be "one of the five or six major factories" in the country.
Work on the new plant was completed in January 1965 and key personnel were brought to Texas from Cleveland, Fullerton and other locations, though interest in the project was especially low at the Olds plant in California. Caldwell expected that hundreds of local Abilene residents could be taught the skills necessary to produce "45 versions of trumpet, cornet, flugelhorn, trombone, alto horn, mellophone, French horn, baritone, Sousaphone, tuba and recording basses," all to be "distributed through CMI outlets across the United States and into 70 foreign countries."
On April 9 and 10, the company hosted a Texas-themed "Reynolds Round-Up" open house to celebrate the new plant. CMI executives-led by Maurice Berlin, civic leaders, dealers from across the country and the general public celebrated the addition to Abilene's industry and the expectations of growth were high. Print advertisements from 1965 are "Texas themed" and celebrate Reynolds' new start.
When the Abilene plant opened, however, manufacturing for Reynolds was already split between Fullerton and Abilene. Since November 1964, the Olds plant in California had been making cornets, trumpets, trombones and French horns under the Reynolds name, at least enough to begin stamping new serial numbers on instruments (the serial number sequence reset at 200,000 with the new manufacturing lines).
The new Reynolds plant made mellophones, alto horns, sousaphones, baritones, tubas and fiberglass sousaphones for both companies. According to former Olds employees, some low brass parts, particularly baritone, euphonium, tuba and sousaphone bells, were manufactured in Fullerton and then shipped to Texas for assembly with other parts being made in Abilene.
In many cases, identical instruments coming off the production lines in Abilene and Fullerton would be branded as either Reynolds or Olds models. Notably, the Ambassador (Olds) and Emperor (Reynolds) lines were identical except for slight finishing details. Reynolds instruments were engraved with "Made in Abilene, Texas" regardless of whether they were produced in Abilene or Fullerton. According to Bernie Marston, the different product lines were maintained in an attempt to keep the dealer networks of both Olds and Reynolds intact.
In addition to instrument manufacturing in the Abilene plant, CMI established the Consolidated Band Instrument Service company as a distributor of instrument accessories, including lubricants, oils, grease, etc., and a brass instrument repair service for dealers. This was a repurposing of the original function of Caldwell Products Co.
Originally expected to have over 300 workers, the Abilene plant only employed slightly over half that number at peak production. News article clippings in the late '60s are strewn with reports of union strikes and grievances.
James Caldwell is president of both F.A. Reynolds and F.E. Olds.
Merle Johnson (E.K. Blessing) recalls that as Maurice Berlin grew older, increasing control of the company's operations was given to his son, Arnold, and his college associates. Arnold Berlin became president of CMI in 1968 and visited the Abilene plant as such (though he had been part of the 1965 delegation as well, as vice president).
In a 2002 interview with the NAMM Oral History Program, Arnold Berlin stated that CMI went public in 1960 and stock was first traded on the market in 1962. In 1969, a majority stake in CMI was acquired (via hostile takeover according to Berlin) by Ecuadorian Corporation Ltd. (ECL Industries), led by H. Norton Stevens who had met Arnold Berlin at Harvard Business School in the 1950s. ECL was a holding company whose principal businesses were a brewery, a cement plant and various other enterprises in Ecuador. ECL had been diversifying its holdings into the United States for political reasons and wanted to capitalize on the booming guitar business of the 1960s—CMI owned Gibson Guitar.
ECL was renamed Norlin Corporation ("Norlin" was named in honor of the founders of ECL, Evermont H. Norton, and CMI, Maurice Berlin) and CMI later became known as Norlin Music. Maurice Berlin was asked to retire in 1970 at age 75, but Arnold Berlin stayed at Norlin Music as CEO for six more years, leaving in mid 1970s.
More information on the history of ECL/Norlin can be found in the article, "The Day the Music Died: Rooney, Pace and the Hostile Takeover of the Norlin Corporation" by John F. Uggen, Business History Conference, 2010.
In May 1970, CMI/Norlin decided to close the F.A. Reynolds plant in Abilene and consolidate operations in the Fullerton factory. The Abilene location remained shuttered until January 1971 when CMI and Conn reached a purchase agreement and the latter reopened the plant for operations. Conn moved their professional brasswind production from Elkhart, Indiana to Abilene and operated the plant from 1971 until 1986. Conn historians are quite critical of the variable quality of the instruments produced during the Abilene operation.
Reynolds instruments made in Fullerton after this point are engraved with "Made in USA".
The Reynolds catalog changed considerably in the 1970s as both Olds and Reynolds continued to merge all aspects of operations. The basic product lineup consisted of Contempora, Emperor and/or Medalist models, as well as other specialty models that appeared (and disappeared) for short periods of time.
One of the latter lineups was the Onyx line of trumpets, cornets, trombones, flutes and clarinets produced at the Olds plant from 1974-75. A "black nickel" finish contrasted with the nickel silver used on the tuning slides and valve tops/caps. Based on model numbering and documented serial numbers, it appears that the nickel-plated Onyx line was introduced as a cheaper manufacturing replacement for the more difficult and expensive solid nickel-silver Argenta models.
The Olds/Reynolds business was placed up for sale in 1978, but Norlin was unable to attract any bidders. Unable to compete in the changing market dynamics of low-cost foreign competition and decreasing school budgets, production officially stopped at the Fullerton plant in July 1979 and all remaining equipment and parts were auctioned off in November.
At the auction, Allied Supply Corporation (now Getzen) purchased a ten-year supply of all parts except for bugles - some parts remain available even today. Selmer/ Bach purchased tooling for all the marching brass and large horns, e.g. baritones, tubas, etc.
The Olds and Reynolds trade names were purchased and are marketed by their current owner (P.J. Laplaca Assoc., Ltd.) with manufacturing based in Elkhart (Blessing), Holland and other locations.
The purpose of this website is to preserve the history of the F. A. Reynolds Company and the distinctive qualities of its brass instruments. Contempora Corner and contemporacorner.com are not related or associated in any way to the former or current F.A. Reynolds Company.