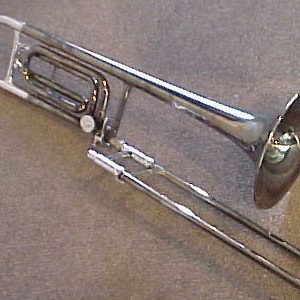 The Onyx trombone was produced at the Olds plant from 1974-75, replacing the solid nickel-silver Argenta model in the catalog for two years before being discontinued. It's likely that having a model line with unique manufacturing needs, i.e. the Argenta's solid nickel-silver bells, was too expensive for CMI/Norlin Music to continue producing, plus it gave Reynolds another trombone model with F attachment.
Per their name, Onyx models featured a black finish over nickel-plated brass areas of the horn; the dark color contrasted with the polished nickel silver used on the tuning slides and trim areas. However, some examples have been found without the Onyx finish or nickel-plate, finished instead with a conventional brass and nickel-silver construction.
Reynolds (Fullerton, Calif.)
The Onyx Trombone combines advanced engineering techniques with traditional skills to produce a truly responsive instrument the meets the most exacting requirements. Hand straightened slides provide fast, dependable slide action for a rich, full sound while the dual bore ensures maximum tone quality with minimum effort. The Onyx TO-20 is precise in every register, highly responsive and flexible. The Onyx finish with nickel silver trim delivers a slightly darker tone to accommodate the contemporary sounds of today. The Onyx Trombone is supplied with a deluxe instrument case and accessories.
The purpose of this website is to preserve the history of the F. A. Reynolds Company and the distinctive qualities of its brass instruments. Contempora Corner and contemporacorner.com are not related or associated in any way to the former or current F.A. Reynolds Company.