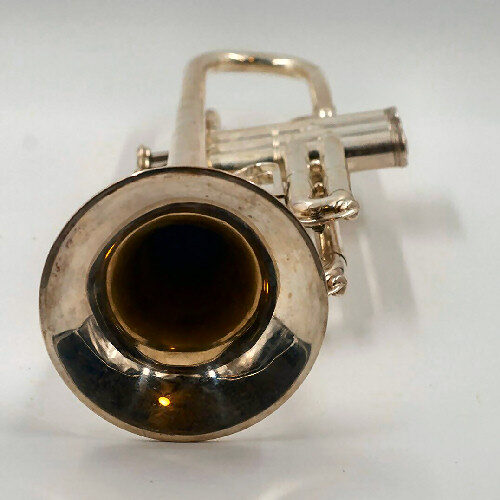 Introduced in 1959 (a year after the cornet model), the short-lived "Hi-Fi" trumpet appears to have been a large-bore (.462″) version of the brass-bell Emperor trumpet. The materials design is identical between the two models and they had similar pricing. The "Hi-Fi" models were cut from the Reynolds catalog sometime after Richards Music purchased the company in 1961.
Roth-Reynolds (Cleveland, Ohio)
The introduction of the "Hi-Fi" model name is consistent with Roth-Reynolds' marketing approach in the late 1950s where they assigned new model names to unique variations of standard instruments (see also the "Sterling" and "Renascence" models). Previously this model would have been most likely marketed as a large-bore Emperor trumpet.
An extremely flexible trumpet for advanced students and professionals. Built in large bore to match 'Hi-Fi' cornet. Truly a professional instrument at a reasonable price.
RMC-Reynolds (Cleveland, Ohio)
Sometime after Richards Music purchased Reynolds in 1961, the product catalog was renumbered. The old numbers were replaced with a new scheme that reflected the type of instrument. To the best of knowledge, the instruments did not change, just the model numbers.
While the Hi-Fi model does not appear in a 1963 (possibly '62) product catalog, there are documented examples of the model with the RMC bell engraving.
The purpose of this website is to preserve the history of the F. A. Reynolds Company and the distinctive qualities of its brass instruments. Contempora Corner and contemporacorner.com are not related or associated in any way to the former or current F.A. Reynolds Company.