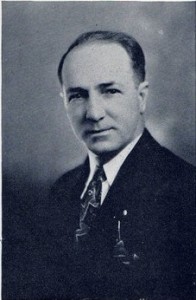 Foster Allen Reynolds was born on December 29, 1883 to Mr. Thomas M. Reynolds (d.1904) and Mrs. Lorena (Woods) Reynolds (1857-1939) of Lodi, Ohio. A younger brother, Harper A. Reynolds, was born on August 25, 1892 (d. June 18, 1975). There was also a third brother, Milo D. Reynolds (dates unknown).
Foster Reynolds was married twice. He married Frances L. Dean on Oct. 28, 1903, and had three daughters, Florence Bernice (Reynolds) Hange (1904-87, married May 1927), Dorothy Dean (Reynolds) Rankin (1907-96, married Sep 1929) and Frances Viola (Reynolds) Mathewson (1915-2000, married Sep. 1939).
After over 31 years of marriage, Foster and Frances Reynolds' divorce was finalized in the spring of 1935, with Mrs. Reynolds evidently keeping possession of the family residence in Cleveland Heights.
Foster Reynolds married Myrtle Rozelle, daughter of Fred and Mary Rozelle, on May 8, 1935. Foster and Myrtle Reynolds had two daughters: Mary and Sandra.
Foster Reynolds died on July 18, 1960 at the F.E. Olds plant in Fullerton, California (details below) — he was 76 years old.
Professional Career
In 1903, at age 19, Reynolds began an apprenticeship with Pop Johnson at the J.W. York and Sons Company in Grand Rapids, Michigan. York and Sons (later York Band Instrument Co.) had been established by a former army musician, James W. York, in 1882 following training in brass repair and manufacturing at the Boston Musical Instrument Manufactory. Boston Musical traces its roots back to 1869 when the staffs of Graves & Co. and E.G. Wright & Co., including renowned brassmen E.G. Wright, William Graves, Henry Esbach and Louis Hartman, joined forces after the Civil War.
Foster Reynolds evidently made a name for himself at York by building superior valved instruments and shortly thereafter he was approached by the H.N. White Company to work on a valved brass line that would complement the outstanding King trombones that Henderson White was building with Thomas King of the Sousa band. Reynolds left York in 1904 to join H.N. White and quickly became a company man, working as superintendent on the factory floor:
Mr. Reynolds, shop superintendent, shares a great deal of credit for the growth of the factory and the many improvements in methods that have made the construction of King band instruments famous. He has taken an interest in the business, and worked for it, making its success his own. In particular, he has advanced the art of valve making to greater perfection than ever before known. Mr. Reynolds says the factory is in good shape now, and that we can promise the shipment of any King instrument within four days after receiving your order.
Reynolds' name appears on a 1912 patent for the King Perfecto No.1 Cornet. Reynolds' passion for instrument manufacturing innovation and quality was evident throughout his tenure at H.N. White and he frequently consulted with physicists about improving the intonation and playing characteristics of brass instruments.
F.A. Reynolds [has] surrounded himself with the most competent force of mechanical experts possible to obtain. This company is particularly fortunate in having Mr. Reynolds as its superintendent. For he is the 'balance' so vital to success. His practical experience and his mechanical knowledge make him sound and thorough. His mechanical knowledge has enabled him to build up the standard of efficiency in our shops until it is approached by that of no other manufacturer of musical instruments. And his practical training is your assurance that faulty, slighting work can never come from the shops of The H.N. White Company. [1924 H.N. White catalog; source: www.hnwhite.com]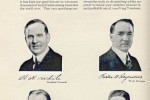 By 1927, Foster Reynolds had become the Works Manager (plant manager) of H.N. White Co., advancing into the senior management ranks along with Henderson N. White (President), Hugh E. White (Vice President) and Richard M. White (Secretary). Reynolds later became Vice President and General Manager of the company.
In all, Foster Reynolds worked for over 30 years at H.N. White Co. and was instrumental in building that company into a leading brass manufacturer. Reynolds was one of the principal figures in the brass instrument manufacturing industry in the first half of the 1900s and one source referred to him as "Mr. Band Instruments".
Foster Reynolds left H.N. White at the end of 1935. The following February, just after his 52nd birthday, he founded the F.A. Reynolds Company. Free to experiment with instrument design and manufacturing on his own terms, Reynolds quickly moved to establish his company's place in the industry with instruments "that were rapidly recognized for superior workmanship and accoustical properties." [Richard Dundas, Twentieth Century Brass Musical Instruments in the United States, p.59]
In 1939, Foster Reynolds allegedly lent his expertise designing small brass to the creation of the Martin Committee trumpet (along with Renold Schilke, Vincent Bach, Elden Benge and local musicians — though Schilke claimed to be the sole designer). The Committee model went on to dominate the jazz trumpet market from the late 1940's to the 1960s.
After working for ten years to build and secure his company's place in the brass instrument industry and having spent over 40 years in the industry overall, Foster Reynolds sold F.A. Reynolds Co. to Max Scherl and Heinrich Roth of Scherl & Roth in 1946 and "retired" at age 62.
However, just a year later, he was consulting for Maurice H. Berlin, president of Chicago Musical Instrument Company (CMI), parent company of F.E. Olds & Son. Founded in 1920, CMI was a long-time distributor for California-based F.E. Olds & Son. Shortly after World War II ended and brass instrument manufacturing restrictions were lifted, CMI purchased F.E. Olds & Son and took over operations with an eye on penetrating the burgeoning school band market.
One of CMI's initial operating decisions was to begin producing a full line of background and low brass instruments in addition to the trumpet, cornet and trombone models that Olds was already making and had built its reputation on. However, the Olds plant in Los Angeles was not set up for manufacturing the additional brass lines and CMI had difficulty finding a partner who would provide these instruments to Olds without also producing the more profitable small brass and trombones. Instead, Maurice Berlin coaxed Foster Reynolds out of retirement and sent him to Los Angeles with a directive to tool up the factory and begin manufacturing the full line of brasses.
Foster Reynolds made an immediate impression on the F.E. Olds Co. Among his first design actions were the renowned Ambassador model trumpet, cornet and trombone (1948). Reportedly built on the same bell mandrels as the premium Recording models and featuring extremely reliable valve sections, the Ambassador line was the latest design to reflect Reynolds' professional commitment to providing high-quality, dependable horns at an affordable price.
The "Brilliant Bell" of the 1948/49 Studio line (trumpet, cornet, trombone) points to either collaboration or competition with his former company in Cleveland, who had launched an identical nickel-silver bell flare on the Emperor ("Silver Flare") and Roth ("Tone Tempered") lines in 1947.
As the plant supervisor at Olds in the 1950's, Foster Reynolds pioneered large-scale techniques for manufacturing brasswinds and mentored Don Agard, a former F.A. Reynolds Co. employee, and Zigmant Kanstul, who started at Olds as a French horn assembler. One of Agard's first major projects was managing the move in 1954 from Olds' long-time factory in Los Angeles to larger facilities in Fullerton. R. Dale Olson notes that:
Ruth Dallas, [Reginald Olds'] long-time personal assistant / secretary, was very close to F.A. and Mrs. Reynolds [and] said that, upon moving to Fullerton, F.A. opened an account at Fullerton Savings and Loan (with about $20,000 in the early 1950s), and was only given a pencil embossed with the S & L name!!!! F.A. thought he should have been accorded better treatment.
Foster Reynolds died on July 18, 1960 while at work at the Fullerton plant. According to those who were at Olds at the time, Reynolds had a heart attack after firing an employee. The attempts by Kanstul and Agard to resuscitate Reynolds were unsuccessful and he died immediately. Reynolds was survived by his second wife, Myrtle, two daughters, Mary and Sandra, and his brother, Harper.
After Reynolds' death, Agard took over plant operations while Kanstul became factory superintendent in charge of all R & D – Engineering and Design. Kanstul remained at Olds until the early 1970s when he left to become manager of the nearby Benge plant and eventually his own company, Kanstul Musical Instruments. Agard ran operations at Olds until the company finally closed its doors in 1979.