On March 2, 1935, a New York-based company, Scherl & Roth, filed a trademark application for a design to be used on a line of brass and woodwind instruments. The illustration of the mark itself is relatively simple—a crown, a shield and the words "The Regent" in a casual script. In their application, Scherl & Roth claimed use of the trademark since February 5 of that same year. The application was approved and registered on October 1.
Today, the Regent brand and this trademark design are associated with the Ohio Band Instrument Co., a business that manufactured student band instruments in the same Cleveland factory managed and operated by Foster A. Reynolds and the F.A. Reynolds Co.
How a New York company best known for importing German-made violins came to file a trademark application for band instruments made by Ohio-based companies that, at the time, didn't exist yet, is a fascinating backstory of the early twentieth-century band instrument manufacturing industry. To find the connections between The Regent, Foster A. Reynolds and Scherl & Roth, we need to look back a few years earlier...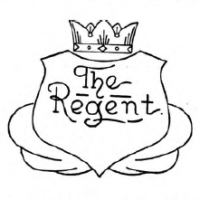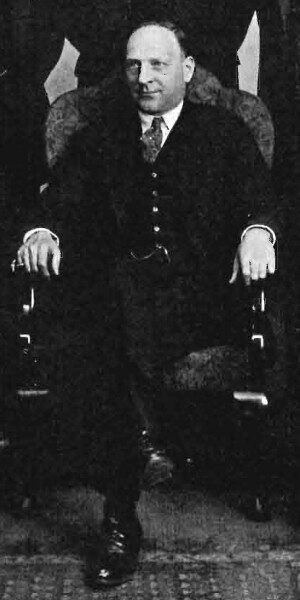 Over the summer of 1929, advertisements in The Music Trade Review announced the consolidation of H.N. White Company, a band instrument manufacturer based in Cleveland, with H.N. White of New York, a business entity likely operating as a regional distributor, but independent of the manufacturer.
In September, the paper reported that Henry Simson (owner of Simson & Frey, a New York-based instrument import and distribution firm) had been elected president and general manager of the consolidated New York branch of H.N. White. Simson would work closely with the senior management team of Henderson N. White (president), Hugh White (vice president) and Foster A. ("F.A.") Reynolds (factory manager) to more effectively market and distribute the King, Cleveland and American Standard lines of band instruments through the company's network of dealers.
A month later, the Black Friday stock market crash began, ushering in the Great Depression—it's yet unknown what impact the economic crisis had on H.N. White operations in New York and Simson's new relationship with the company.
In 1932 Simson retired and two Simson & Frey employees—Heinrich Roth and Alban "Max" Scherl—purchased his firm, renaming it Scherl & Roth. Scherl was an experienced traveling salesman and had joined Simson & Frey in 1922. Roth was a seventh-generation violin maker who had worked with his father and brother in the family shop in Germany before coming to the United States in 1921 at age 19 to build trading relationships. Established in 1910, Simson & Frey had been the sole distributor of Roth violins in the United States and Heinrich Roth was closely associated with the business.
It's not known if Roth or Scherl had interacted with the H.N. White Co. management team as part of Simson's earlier work, but in July 1933, Heinrich Roth was a guest at a weekend birthday celebration for Henderson N. White at the White residence in Cleveland, suggesting a degree of familiarity on both the personal and business sides. The H.N. White management team, including Foster Reynolds, would have presumably also been in attendance, as well was another associate of Roth, Joseph Dvorak, who had worked for Simson & Frey and continued on with Scherl & Roth.
Between 1929 and 1935, therefore, the opportunity existed for relationships to be built between Reynolds, Roth and Scherl, and from that an idea and plan evidently formed for Reynolds to apply his extensive working knowledge toward the production of a line of band instruments—The Regent—that Roth and Scherl would sell through their company's dealer channels in the United States and Europe. Echoing the earlier manufacturing, sales and distribution arrangement between The H.N. White Co. and H. Simson, the plan played to the strengths of each partner.
In 1935, however, Foster Reynolds was still Vice President and General Manager of H.N. White, the apex of a 30-year career that had seen him help develop that company into one of the largest brass manufacturers in the industry.
That said, faced with the likely prospect of always being a lieutenant at the family-owned and operated H.N. White business, Reynolds now chose to pursue the freedom to design and build instruments on his own terms and according to his own methods. He left the security of his senior position at H.N. White to partner with Roth and Scherl on a new venture, and to forge a path forward to his own legacy.
It is possible that Scherl & Roth sought to obtain the trademark to "The Regent" in order to block Boosey & Hawkes from introducing their new Regent model cornets, trumpets and trombones into the United States market. The B&H Regent model was introduced in London in 1932.
F.A. Reynolds
With a career that spanned work at the York, White, Reynolds and Olds companies, Foster A. Reynolds was a key figure in the history of the band instrument manufacturing industry.
Editorial note: I have tried to clarify references to Scherl and Roth throughout by using "Scherl & Roth" exclusively for the business, and "Roth and Scherl" for notes about the individual men themselves. There is otherwise no intended significance to the presented order.
The purpose of this website is to preserve the history of the F. A. Reynolds Company and the distinctive qualities of its brass instruments. Contempora Corner and contemporacorner.com are not related or associated in any way to the former or current F.A. Reynolds Company.