Editorial note: The partnership of Foster A. Reynolds, Heinrich Roth and Max Scherl created two new companies: F.A. Reynolds Co. and Ohio Band Instrument Co. The latter was described in 1936 news articles as a subsidiary of F.A. Reynolds Co., but it appears to have been essentially a wholly separate business entity, owned and operated by the same shareholders out of the same factory in Cleveland. Inasmuch, the history of Ohio Band is largely the history of F.A. Reynolds Co., but I've extracted specific details for the summary description below.
The Ohio Band Instrument Co. (Ohio Band) was initially incorporated as a New York-based business. On April 9, 1935, a certificate of incorporation for Ohio Band was signed and notarized in New York City, then filed three days later with the New York Department of State's office in Albany. The articles of incorporation were signed by three individuals who appear to have been associated with attorney-at-law Theodore S. Wood (presumably on behalf of Scherl & Roth, also located in New York at the time) and acted as legal caretakers of the company until a formal board of directors was instated. Of interest is the address given for the new company: 70 5th Avenue, c/o Prentice-Hall, Inc. A connection between the Prentice-Hall and Scherl & Roth has not yet been established.
Of further interest, a month before Ohio Band was incorporated, Scherl & Roth had filed a trademark application for a design to be used on a line of brass and woodwind instruments. The illustration of the mark itself is relatively simple—a crown, a shield and the words "The Regent" in a casual script. In their application, Scherl & Roth claimed use of the trademark since February 5 of that same year. The application was approved and registered on October 1.
"The Regent", of course, was the primary band instrument line produced under the Ohio Band name. Scherl & Roth's use of the Regent name between Feb 1935 and Mar 1936, when the Ohio Band factory started up, has not yet been identified, though there are later references to a "Regent" recorder that does not appear in the Ohio Band catalog.
At the meeting of shareholders in early December, Heinrich Roth was named president of Ohio Band and Max Scherl as secretary. It is assumed that Foster Reynolds was named vice president, but direct evidence is not available. What is known is that—according to the articles of incorporation—there had to be at least three directors, two-thirds of whom had to be United States citizens and one of the directors had to be a New York resident. Roth was a German citizen and Reynolds lived in Ohio, leaving Scherl as the New York representative. Scherl and Reynolds fulfilled the U.S. citizen requirement. The articles of incorporation allowed for up to seven directors—other than the three "caretaker" names and Harper Reynolds, Foster's younger brother, who is named later, it's unknown if anyone else was part of the business.
On December 3, Roth filed an application on behalf of Ohio Band for a business license in Ohio, naming Foster Reynolds as the local legal agent. On the application, it is noted "no business yet transacted" in Ohio—whatever use of the Regent trademark had occurred since February seemingly did not happen in Cleveland.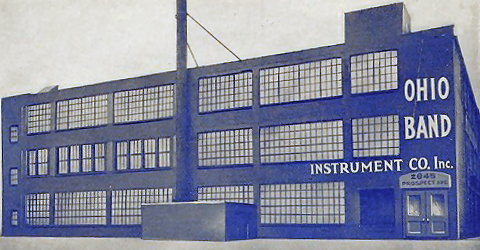 On March 20, 1936, the Cleveland Plain Dealer reported that F.A. Reynolds Co. had secured a 10-year lease for a "modern three-story brick building" with 21,000 square feet of floor space near the heart of Cleveland. Foster Reynolds told the newspaper that the location was selected "because of manufacturing conditions, nearness to supply of raw materials and convenience of distribution of the finished product." The new factory, located at 2837-53 Prospect Avenue, was just over a mile from the central railway terminal in Cleveland and about two miles away from the H.N. White factory where Reynolds had spent most of his career.
Ohio Band Instrument Co. operated from the same location, "making medium-priced band instruments for the commercial trade." The paper reported that the new company had "orders booked ahead for six months' production from dealers in [the United States] and Europe," presumably through Scherl & Roth's network. The company already employed 20 men and the workforce was expected to grow to 100 "as soon as machinery and equipment are in."
With the factory location established, Reynolds, Roth and Scherl now decided that Ohio Band Instrument Co. should be based in Ohio rather than New York—perhaps for tax or trade advantages, but more likely in anticipation of Roth and Scherl moving their own business to Cleveland and becoming Ohio residents (New York law would have required one of the owners of Ohio Band or a new legal agent to remain a New York resident).
Articles of incorporation for a new company were drafted on June 30, signed by Foster Reynolds, Max Scherl and now, Harper Reynolds, Foster's younger brother, who was also treasurer of F.A. Reynolds Co. The articles were identical to that of F.A. Reynolds Co., organized a year earlier. Foster Reynolds was again named the legal representative of Ohio Band and he filed the articles of incorporation with the Ohio Secretary of State on August 27. This second incorporation was reported in the Cleveland Plains Dealer the following day.
In the interim, on July 14, the New York Department of State confirmed receipt of a certificate of dissolution for the original Ohio Band Instrument Co. That company surrendered its Ohio business license on August 7 (prior to new articles of incorporation being filed), and by September 10, any tax liabilities had been officially cleared, leaving the new Ohio-based version of the company free to operate.
A new firm enters the band instrument field, determined to serve dealers exclusively. This organization is new in name only, for the men behind it have devoted a life-time to the development of band instruments.
The head of this organization, Mr. F.A. Reynolds, at the age of eighteen, served his apprenticeship with a band instrument manufacturer who, at that time, was one of the largest in the field.
He later became affiliated with a small concern that made just a few band instruments. During thirty years of his connection with this firm, and due to his indefatigable efforts and his genius for improving methods of manufacture, this small shop grew to the second largest factory in the industry.
With the able assistance of his brother, Mr. H.A. Reynolds, who has been associated with him for twenty years, he has developed and improved methods of production so far-reaching in importance, that many have been adopted and are being used by practically all band instrument manufacturers.
Through experience gained in over thirty years, Mr. Reynolds is fully conversant with the requirements of the industry. He has surrounded himself with skilled artisans and has equipped a modern plant where band instruments of quality and distinction are manufactured. Mr. Reynolds enters the field confident of his ability to continue serving his many friends and the musical public, to their complete satisfaction.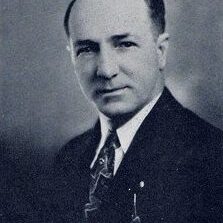 Over the first few years, both Foster Reynolds and Scherl & Roth exhibited a complete line of Regent band instruments at the National Association of Music Merchants (NAMM) conventions. The annual convention regularly alternated between Chicago and New York. Ohio Band offered a full catalog of The Regent brass and woodwind instruments and band accessories, including stands, mutes, mouthpieces, reeds, etc. exclusively to dealers, a business model that Foster Reynolds was well familiar with from his work with H.N. White's Cleveland Band and American Standard divisions, and that Scherl & Roth had cultivated themselves for decades.
In the fall of 1940, Scherl & Roth began selling Roth models of trumpets, cornets and trombones under the name "Roth Band Instruments". These instruments were made by F.A. Reynolds factory workers, engraved as "Made by Ohio Band" horns, and marketed and sold under the Roth banner. According to their trademark application, Scherl & Roth planned to carry a full set of brass and woodwind instruments. In addition to the Regent and Roth brands, Ohio Band also made horns under the Paramount and Grenadier names. However, little is known about these instruments.
In March 1946, Foster Reynolds retired and Heinrich Roth became the new president of F.A. Reynolds Co. The official transfer of control was signed and notarized on March 28, 1946 and filed with the Secretary of State's office on April 2. In addition to their own string business, Roth and Max Scherl now owned and managed three separate band instrument lines and two manufacturing businesses: Reynolds instruments made by F.A. Reynolds Co., and Roth Band Instruments and The Regent instruments, both manufactured by Ohio Band Instrument Co.—all out of the same factory, of course.
Up to this point, the various instrument lines had simply been known as "Reynolds", "Roth" and "Regent", and each line was managed separately. Catalogs and other materials from the late 1940s present these as "the 3 R's in music" with the Reynolds slogan, "Band Instruments of Distinction".
In marketing literature, the Reynolds line was now described as made by "F.A. Reynolds Co., a division of Scherl & Roth". Roth Band Instruments had been initially advertised as "Manufactured by Ohio Band Instrument Co." (1940) but then shifted to "Scherl & Roth Inc." (1942 ff.). The Regent instruments continued to be made under the Ohio Band label—as dealer-exclusive models, these didn't appear in public advertising. Actual Regent instruments now only included the cornet, trumpet, tenor trombone and metal clarinet models.
It was under this business framework that deluxe versions of the "Made by Ohio Band" Roth trumpet, cornet and trombone were introduced c.1947-48 with a new feature—a nickel-silver bell flare fused to a brass bell stem. These "Tone Tempered" bells are identical to the same metallurgical marriage that Olds introduced with their "Brilliant Bell" on the 1948/49 Studio line, launched a short time after Foster Reynolds had joined F.E. Olds in California. It's yet unknown if this was coincidence, collaboration or competition between his former and current companies.
A year or two later, however, and a different approach to the instrument lines was in motion. Rather than maintain three distinct product lines, each with different levels of instruments (like the deluxe "Tone Tempered" Roth horns), Scherl & Roth began the process of consolidating their band instrument catalog under one brand, eventually to be known as Roth-Reynolds. Regent (and the Ohio Band subsidiary business) would be eliminated, Roth was repositioned as the student line (competing against the new Ambassador models from Olds) and the Reynolds line would be diversified to address new and different segments of the market.
Separate operations of the Ohio Band Instrument Co. ended c.1950 as Heinrich Roth and Max Scherl now focused on the Roth and Reynolds names. Production of The Regent line was discontinued with the exception of The Regent Silver Clarinet, which was probably retained to compete against H.N. White's SilverTone clarinet model. The Roth trumpet, cornet and trombone that had been manufactured by Ohio Band were folded under the Reynolds name and became the student line in the consolidated catalog, emphasizing professional value and ease of playing.
The purpose of this website is to preserve the history of the F. A. Reynolds Company and the distinctive qualities of its brass instruments. Contempora Corner and contemporacorner.com are not related or associated in any way to the former or current F.A. Reynolds Company.