New York, New York
Cleveland, Ohio
On April 9, 1935, a certificate of incorporation for Ohio Band Instrument Co. was signed and notarized in New York City, then filed three days later with the New York Department of State's office in Albany. The articles of incorporation were signed by three individuals who appear to have been associated with Theodore S. Wood, attorney-at-law, presumably on behalf of Scherl & Roth. These individuals acted as legal caretakers of the company until a formal board of directors could be elected, which happened by the beginning of December. Ohio Band was officially incorporated as a New York-based business.
On August 28, articles of incorporation for F.A. Reynolds Co. were signed by the same three individuals and notarized in New York (Manhattan). However, the company would not be officially organized until three months later when Foster A. Reynolds signed as the legal representative of the company and filed the articles of incorporation with the State of Ohio. The articles identified $500 of beginning capital (about $10,000 in 2022) and authorized a maximum of 200 unvalued shares in the company. No address was given other than Reynolds' home address. As of November 27, 1935, F.A. Reynolds Co. was officially incorporated as an Ohio-based business.
Shortly thereafter, Heinrich Roth was named president of Ohio Band, Foster Reynolds president of F.A. Reynolds and Max Scherl became secretary of both companies. On December 3, Roth filed an application on behalf of Ohio Band for a business license in Ohio, naming Foster Reynolds as the legal agent. On the application, it is noted "no business yet transacted" in Ohio—whatever use of the Regent trademark had occurred since February seemingly did not happen in Cleveland.
Paperwork filed the following April indicates that the directors approved the location of the company's manufacturing plant in early December as well. Clearly, as R. Dale Olson writes in his book on Zig Kanstul, "Reynolds had long planned his resignation from [H.N. White] and was concurrently planning for his new factory. There would be no lost time." [Zig Kanstul, p.118]
United States trademark documentation indicates that the Reynolds name was first used for commerce in February 1936. If commercial operations had begun any earlier than that (having incorporated three months earlier), there is no documented record of where or by whom instruments may have been manufactured and sold. It is also possible that February represents the date that the Reynolds name was free to be used for commerce—meaning he no longer was associated with H.N. White Co. There is no record of when Reynolds officially left White, but it likely was between November 1935 and February 1936.
On March 20, 1936, the Cleveland Plain Dealer reported that the "recently organized" F.A. Reynolds Co. had secured a 10-year lease for a "modern three-story brick building" with 21,000 square feet of floor space near the heart of Cleveland. Foster Reynolds told the newspaper that the location was selected "because of manufacturing conditions, nearness to supply of raw materials and convenience of distribution of the finished product." The new company, located at 2837-53 Prospect Avenue, was just over a mile from the central railway terminal in Cleveland and about two miles away from the H.N. White factory where Reynolds had spent most of his career.
A 10-year/20,000 square feet lease in the same factory building had been signed in 1935 by an automotive supply maker for $36,000. It is assumed that Reynolds closed at similar terms.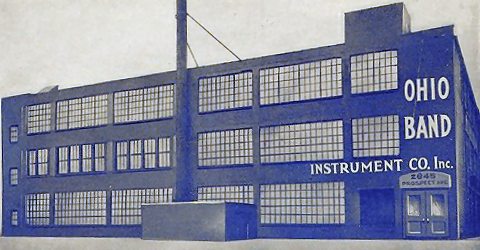 In addition to the lease, the company was expending "$40,000 in alterations and installation of [special mechanical] equipment for making high grade band instruments." A subsidiary business, Ohio Band Instrument Co., would operate from the same location, "making medium-priced band instruments for the commercial trade." The paper reported that the new company had "orders booked ahead for six months' production from dealers in [the United States] and Europe," presumably through Scherl & Roth's network. The company already employed 20 men and the workforce was expected to grow to 100 "as soon as machinery and equipment are in."
Startup expenses of $76,000 in 1936 is equivalent to approximately $1.4M in 2022. It's unknown if financing for the lease and equipment was provided through the partnership with Scherl & Roth, or (as R. Dale Olson speculates) as a collateral loan through a more conventional source, such as Reynolds' banker, Donald M. Agard of Central National Bank [Zig Kanstul, pp.117-118]. Agard's son, Don, would later work for Foster Reynolds, both in Cleveland and later in California at the F.E. Olds plant.
The company updated its records with the State of Ohio to reflect the new business address on April 13, 1936. The filing document indicates that the update had been approved by the Reynolds board of directors on December 2, 1935 and was signed by Foster A. Reynolds, president, and Max Scherl, secretary. Plans for the new operations were well underway.
With the factory location established, Reynolds, Roth and Scherl now decided that Ohio Band Instrument Co. should be based in Ohio rather than New York—perhaps for tax or trade advantages, but more likely in anticipation of Roth and Scherl moving their own business to Cleveland and becoming Ohio residents (New York law would have required one of the owners of Ohio Band or a new legal agent to remain a New York resident).
Articles of incorporation for a new company were drafted on June 30, signed by Foster Reynolds, Max Scherl and now, Harper Reynolds, Foster's younger brother. The articles were identical to that of F.A. Reynolds Co., organized a year earlier. Foster Reynolds was named the legal representative of the new Ohio Band and he filed the articles of incorporation with the Ohio Secretary of State on August 27. This second incorporation was reported in the Cleveland Plains Dealer the following day.
In the interim, on July 14, the New York Department of State confirmed receipt of a certificate of dissolution for the original Ohio Band Instrument Co. That company surrendered its Ohio business license on August 7 (prior to new articles of incorporation being filed), and by September 10, any tax liabilities had been cleared, leaving the new Ohio-based version of the company free to operate.
A new firm enters the band instrument field, determined to serve dealers exclusively. This organization is new in name only, for the men behind it have devoted a life-time to the development of band instruments.
The head of this organization, Mr. F.A. Reynolds, at the age of eighteen, served his apprenticeship with a band instrument manufacturer who, at that time, was one of the largest in the field.
He later became affiliated with a small concern that made just a few band instruments. During thirty years of his connection with this firm, and due to his indefatigable efforts and his genius for improving methods of manufacture, this small shop grew to the second largest factory in the industry.
With the able assistance of his brother, Mr. H.A. Reynolds, who has been associated with him for twenty years, he has developed and improved methods of production so far-reaching in importance, that many have been adopted and are being used by practically all band instrument manufacturers.
Through experience gained in over thirty years, Mr. Reynolds is fully conversant with the requirements of the industry. He has surrounded himself with skilled artisans and has equipped a modern plant where band instruments of quality and distinction are manufactured. Mr. Reynolds enters the field confident of his ability to continue serving his many friends and the musical public, to their complete satisfaction.
Early Reynolds and Ohio Band instruments have much in common with H.N. White designs and it is not unthinkable that Foster Reynolds leaned heavily on his experience and relationships at his former employer as he began operations—especially workers whom he convinced to join him or whose services he "borrowed"—though in all likelihood, without the endorsement of the White family.
Reynolds reportedly managed to take one of The H.N. White Co.'s long-time engravers with him—early Reynolds instruments with sterling silver bells tend to have very ornate engravings and hand-burnished gold inlay that are reminiscent of the contemporary H.N. White "Silver Tone" horns.
Nonetheless, Reynolds moved quickly to separate himself from his past employer and in July 1936, just four months after leasing his factory space, he was exhibiting his own instruments at the annual National Association of Music Merchants (NAMM) convention (Chicago, July 27–29), sharing booth space with Scherl & Roth.
No matter what location or form, it's clear that the partnership between Reynolds, Roth and Scherl was driving business forward. On November 19, an additional 300 shares were authorized to be issued by F.A. Reynolds Co., bringing its total to 500 shares. The resolution was approved by a vote of 75% of the stockholders—although no detailed voting details are documented, one could speculate that Reynolds held 50% of the original outstanding stock and Roth and Scherl held 25% each, requiring Reynolds to have alignment with at least one of his partners on business issues.
Early operations at the Reynolds factory were not without incident. In January 1937, a gas explosion in the boiler room was reported that blew the roof off and injured three workers, including a janitor who was blown from the boiler room into the basement and two workers who "suffered lacerations and bruises when the blast threw them into piles of band instruments." All three were reported to be in good condition. [Cleveland Plain Dealer, January 31, 1937]
Once operations at the Prospect Avenue factory were up and running, Scherl & Roth relocated their business from New York to Cleveland, bringing Heinrich Roth and Max Scherl into closer contact with Foster Reynolds. Much closer in fact, as Scherl & Roth shared office space with the Reynolds company from 1937 until 1953-54 when they moved into a new location on Superior Avenue (the Reynolds factory continued to operate on Prospect Avenue).
The business relationships between the three men were closely interwoven, both as officers of the companies and in the products that they offered. In 1936, Foster Reynolds is listed as president of F.A. Reynolds in the Cleveland City Directory; his brother, Harper, is listed as treasurer. In 1938, 1942 and 1944, Heinrich Roth is added as vice president and Max Scherl as secretary. The 1940 directory has no officers listed in the entry, but presumably would be the same organizational structure.
In July, Foster Reynolds exhibited a complete line of Regent and Reynolds band instruments at the NAMM convention (New York, July 26–29). The annual convention regularly alternated between Chicago and New York. By that time, Ohio Band offered a full catalog of The Regent brass and woodwind instruments and band accessories, including stands, mutes, mouthpieces, reeds, etc. exclusively to dealers, a business model that Foster Reynolds was well familiar with from his work with H.N. White's Cleveland Band and American Standard divisions, and that Scherl & Roth had cultivated themselves for decades.
Scherl & Roth imported Moennig Bros. and other woodwind instruments that were resold, first by Ohio Band and then as part of the Roth-Reynolds catalog in the 1950s. It seems reasonable to conclude that the two companies were working closely together, through subsidiaries and imports, to create an integrated product catalog for student bands and orchestras, while also focusing on their specific areas of expertise—F.A. Reynolds on professional brass instruments, Scherl & Roth on premium violins.
In the summer of 1938, Reynolds again exhibited the F.A. Reynolds line of band instruments at the NAMM convention (Chicago, July 30–August 4). Both F.A. Reynolds and Scherl & Roth were also exhibiting Regent band instruments made under the Ohio Band label. Reynolds, Roth and Scherl are all listed as company officers in the same roles described above.
The 1930s closed with the death of Foster Reynolds' mother, Mrs. Lorena Reynolds, 82, on November 18, 1939. The Plain Dealer report of her death mentions that his younger brother, Harper A. Reynolds, served as treasurer of F.A. Reynolds Co.
Harper had worked with Foster for 20 years prior to the founding of F.A. Reynolds, both at H.N. White and possibly on family properties. He would later follow Foster to California to work at Olds and leave that company only after his brother's death. In all, the Reynolds brothers worked together for well over 40 years.
With an established reputation in the industry and access to skilled technical assistance in Cleveland, Reynolds was able to experiment with design improvements in his own factory and to produce [instruments] that were rapidly recognized for superior workmanship and acoustical properties.
Twentieth Century Brass Musical Instruments in the United States
On May 29, 1940, the Plain Dealer reported that F.A. Reynolds Co. had secured a second five-year lease for the building at 2837 Prospect Avenue through Granger Factory Space Brokers for $18,000. Given that Reynolds had reportedly secured a 10-year lease for property at the same address just four years earlier, the timing of this announcement is odd.
However, a search of the newspaper's archives reveals that a lease for half of the Prospect Ave building was signed on July 25, 1935 by an automotive supply manufacturer, less than a year before Reynolds originally moved in. The term was for 10 years at $36,000 for 20,000 square feet of space. It's possible that Reynolds took over that lease in 1936, "securing" the original 10-year lease from its former owner and renegotiating to five-year leases. The Plain Dealer report also noted that the company had started with four employees and now employed 80 men, which would be close to the largest workforce the company employed while in Cleveland.
In September, the Presto Music Times reported that Foster Reynolds was a new director on the board of the National Association of Band Instrument Manufacturers.
That fall, Scherl & Roth began selling Roth models of trumpets, cornets and trombones under the name "Roth Band Instruments". These instruments were made by F.A. Reynolds factory workers, engraved as Ohio Band Instrument horns, and marketed and sold under the Roth banner. According to their trademark application, Scherl & Roth planned to carry a full set of brass and woodwind instruments.
In addition to the Regent and Roth brands, Ohio Band also made horns under the Paramount and Grenadier names. However, little is known about these instruments.
F.A. Reynolds exhibited at the 30th Annual Convention of the Music Merchants Association of Ohio on June 22-24.
Reynolds' success in band instrument manufacturing was recognized by the United States military and the company was awarded contracts to provide instruments for the Army service bands during World War II. F.A. Reynolds Co. was awarded at least three contracts for band instruments by the Army Quartermaster between 1943-45. The first was a six-month contract awarded in December 1943 with a value of $82,000 ($1.3M in 2022). A second contract was issued in September 1944 for two months and $53,000 ($840K in 2022). Finally, a four-month contract was issued in January 1945 for $57,000 ($883K in 2022). Details of each contract are not available and it is not specified which service bands received the instruments, though anecdotal evidence suggests that the bands of the U.S. Army Air Forces (USAAF) were recipients, having recently organized in 1941.
These contracts, totaling almost $200K ($3M in 2022), allowed the relatively new company to continue focusing on instrument production when many more-established manufacturers, e.g. Olds and Conn, were forced to shut down instrument lines and produce wartime equipment. While contracts have only been discovered for 1943-45, Reynolds evidently made instruments for the military until c.1951 (based on serial numbers) ; these instruments have unique engravings and a large "U.S." mark near the rim of the bell.
While Reynolds continued making band instruments during World War II, they also made their facilities available for companies needing plating work on defense items. Newspaper advertisements offered the company's services for silver or gold plating of radio parts, electrical contact units and other parts through light or heavy deposit plating. Large tank capacity was available and satisfaction was guaranteed through 40 years of plating experience. In June 1943, the Plain Dealer published a story on the development of precise elevation sights for the army's bazooka and grenade launcher weapons. Reynolds Band Instruments is mentioned as a subcontractor on the project, likely for plating work as described above.
Also in 1943, Max Scherl, president of Scherl & Roth, was named president of National Association of Musical Merchandise Wholesalers. He would be elected again to the post in 1951.
Bob Prochko commented that his grandfather, Joseph Bartik, returned to the Reynolds company in December 1945 after finishing war work at Navy Park (in Cleveland). Shortly after rejoining, he began redesigning the company logo engraved on the trumpets, cornets and trombones.
Catalogs referred to the new engraving as a "monogram style" and it was made up of the word "Reynolds" in vertical block letters with "F" and "A" at the top. There were varying levels of detail engraved over the years and the sterling silver bells featured fine etching and hand-burnished gold inlay. The new logo generally first appears on instruments with serial numbers around 9000, though earlier examples have been noted.
After spending over ten years building his company, navigating the complexities of wartime manufacturing, and almost 45 years in the industry overall, Foster Reynolds turned operations over to his partners at Scherl & Roth in March 1946 and retired at age 62. There were no known health or financial issues, but Reynolds had a young wife and two daughters at home who certainly must have been demanding more of his time. It's likely that the new logo engraved on the instruments bearing Reynolds' name signaled changes to come in many ways.
The purpose of this website is to preserve the history of the F. A. Reynolds Company and the distinctive qualities of its brass instruments. Contempora Corner and contemporacorner.com are not related or associated in any way to the former or current F.A. Reynolds Company.