In early 1936, a few months after his 51st birthday and more than 30 years work at the H.N. White Company, Foster A. Reynolds (1884-1960) founded the F.A. Reynolds Company. The new company was located at 2845 Prospect Avenue in Cleveland, near the campus of former Fenn College, now Cleveland State University. The Cleveland Plain Dealer reported in late March of that year that:
Another new industry has been located in Cleveland in a transaction reported closed yesterday by Granger Factory Space Brokers, 320 Hippodrome Building.

It is the F. A. Reynolds Co., Inc., recently organized. Its president, Foster A. Reynolds, decided to locate here because of manufacturing conditions, nearness to supply of raw materials and convenience of distribution of the finished product.

The company has leased for ten years a modern three-story brick building at 2837-53 Prospect Avenue S. E., containing 21,000 square feet of floor space and is expending $40,000 in alterations and installation of equipment for making high grade band instruments. A subsidiary, the Ohio Band Instrument Co., will operate at the same place, making medium-priced band instruments for the commercial trade.

According to its officers, the Reynolds company has orders booked ahead for six months' production from dealers in this country and Europe. Twenty men now are employed and the force will be increased to 100 as soon as machinery and equipment are in.

President Reynolds has been engaged for 32 years in making [sic] of band instruments and also in the development of special mechanical equipment.[1]
According to trademark documentation, the Reynolds name was first used for commerce in February 1936, which is consistent with the facts of the newspaper report. In May 1940, the paper further reported that Reynolds had secured a second five-year lease (meaning the original report was incorrect, or that the first lease was later modified) through Granger for $18,000. They also note that the company started with four employees and now (1940) employed 80 men.[2] Reynolds' brother, Harper A. Reynolds, served as treasurer of the company.
With an established reputation in the industry and access to skilled technical assistance in Cleveland, Reynolds was able to experiment with design improvements in his own factory and to produce [instruments] that were rapidly recognized for superior workmanship and acoustical properties.[3]
Reynolds' early instruments have much in common with the designs he was familiar with from his work at H.N. White and it is not unthinkable that Reynolds leaned heavily on his experience and relationships at his former employer as he began operations (especially H.N. White workers whom he convinced to join him or whose services he "borrowed"). Regardless, he quickly moved to separate himself from his past work and establish his company's own place in the industry.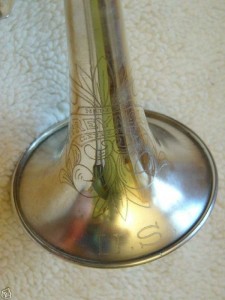 Reynolds' early success in producing technical advancements in brass instrument manufacturing was recognized by the United States military and the company was awarded considerable contracts to provide instruments for Army Air Force (USAAF) service bands during World War II. These contracts allowed the relatively new company to continue focusing on instrument production when many more-established manufacturers, e.g. Olds and Conn, were forced to shut down instrument lines and produce wartime equipment. Reynolds made instruments for the military service bands until c.1950; these instruments have a large "U.S." mark engraved near the rim of the bell.
While Reynolds continued making band instruments during World War II, they also made their facilities available for companies needing plating work on defense items. Newspaper advertisements throughout 1943 advertise the company's services for silver or gold plating of radio parts, electrical contact units and other parts through light or heavy deposit plating. Large tank capacity was available and satisfaction was guaranteed through 40 years of plating experience.
1946: After spending over ten years building and securing his company's place in the brass instrument industry and over 40 years in the industry overall, Foster Reynolds sold his shares of the operation to Max Scherl and/or the Scherl & Roth Company. Max Scherl is referred to as president of the F.A. Reynolds Band Instrument Co. in a July 1946 newspaper listing.[4]
1947: Under Scherl & Roth ownership, operations for Reynolds and Ohio Band were eventually merged and the latter's Regent instrument line discontinued. The Roth trumpets, cornets and trombones that had been manufactured by Ohio Band were rebranded under the F.A. Reynolds name and became the budget line of the consolidated catalog — professional value and ease of playing were emphasized as the key characteristics of Roth instruments.
In November, the Reynolds expanded their instrument lineup with the moderately priced Emperor trumpet, cornet and tenor trombone models in an effort to reach more advanced student musicians. The Emperor models acted as intermediate "step up" horns from the entry-level Roth (and later, Medalist) models. According to the trademark application filed with the U.S. Patent Office, the model name "Emperor" was first used on November 1, 1947. Registered in 1952, the trademark registration was renewed once in 1972 before being allowed to expire by the current owners.
Deluxe versions of Emperor and Roth cornets, trumpets and tenor trombones featured a two-piece brass and nickel-silver bell. The nickel-silver bell flare remained a design element of the Emperor models until the early 1970s (the Roth "Tone Tempered" version was discontinued in the early 1950s) when models produced at the Olds plant in Fullerton had a nickel plate finish over the entire instrument and were similar, if not identical, to the Olds "Special" line of instruments.
1949: Following on the Emperor line, Reynolds introduced "Contempora" in May 1949 as a new premium model line. While most existing Reynolds instruments were simply rebranded as Contempora models, the Reynolds trumpets, cornets and tenor trombones were renamed as the Professional model line and new designs were introduced for the Contempora models. These new instruments featured larger bore sizes and golden bronze-alloy bells with nickel-silver tone rings, as well as other distinctive features such as Monel valve pistons and tuning slide triggers for improved intonation control.
The new models were allegedly designed and produced in collaboration with musicians from the Cincinnati Symphony Orchestra. According to the trademark application filed with the U.S. Patent Office, the name "Contempora" and original stylized script were first used on May 5, 1949 and designated for "cornets, trumpets, trombones, altos, baritones, basses, french horns, clarinets, oboes, piccolos, flutes, bassoons [and] euphoniums." Registered in 1951, the trademark registration was renewed once in 1971 before being allowed to expire by the current owners.
~1952: The F.A. Reynolds Co. began conducting business under the "Roth-Reynolds" name, most likely signifying Heinrich Roth's deepening involvement with the band instrument business as partner Max Scherl neared retirement. All Reynolds instruments are now engraved "Made by Roth-Reynolds" instead of "Made by F.A. Reynolds".
1955: Max Scherl retired, leaving Heinrich Roth as the President and owner of Scherl & Roth, the F.A. Reynolds Company (doing business as "Roth-Reynolds") and the Ernst Heinrich Roth Company.
1955/56: Reynolds introduces the Contempora "Leonard Smith" signature model trumpet and cornet. Leonard B. Smith was one of the great band directors of the 20th century (notably the "Belle Isle" band in Detroit and Blossom Festival Concert Band during summer music festivals in Cleveland), direct inheritor of the John Philip Sousa tradition and a legendary cornet player. It is likely that the Leonard Smith models were a response to the Olds Mendez models that F.E. Olds (led by Foster Reynolds) and virtuoso artist Rafael Mendez had collaborated on for release in 1952.
Reynolds also introduced the inexpensive "Hi-Fi" model line as an intermediate set of large-bore, brass-bell trumpets, cornets and trombones — a bit of a cross between the large-bore (but bronze-bell) Contempora line and the brass-bell (but medium-bore) Professional instruments, but sold at the same price as the Emperor line of instruments, which they were generally styled after. The cornet model was introduced first c.1955, followed by the trumpet and trombone in 1959. The "Hi-Fi" name itself is an abbreviation of "high fidelity", meaning the reproduction of sound with little or no distortion. Known serial numbers range from ~39000-62000 and, like many original Reynolds models, the "Hi-Fi" models did not survive the manufacturing move from Cleveland to Abilene/Fullerton after CMI purchased F.A. Reynolds Co. in 1963/64.
1956: In the mid-1950s, Roth-Reynolds approached James Chambers (New York Philharmonic, 1946-1969) with a similiar idea for collaboration as what Max Pottag had provided Reynolds a decade earlier (see Reynolds Double Horn, Pottag Model). As a Conn 8D player, Chambers was familiar with the Kruspe-Horner layout of the Reynolds Pottag horn, but wanted to incorporate some of the playing characteristics and physical constructions that he was used to from his Conn horn.
After two years of design and development, Chambers endorsed the Reynolds Double Horn, Chambers Model in 1958. However, he only played the Reynolds horn for three seasons before a contract dispute in 1961 prompted Chambers to return to his original Conn 8D horn, ending the short-lived collaboration.
1958: In addition to the Chambers Double Horn, the Contempora "Stereophonic" double-valve bass trombone was added to the catalog. Designed in collaboration with Kauko Kahila (BSO) and Allen Ostrander (NYPO), the Contempora was the first commercially produced bass trombone with two rotor valves permanently attached to the horn, providing players with a fast and simple way of lowering the pitch of the trombone to E and enable playing passages such as the low B glissando in Bartok's "Concerto for Orchestra".
1959: Perhaps as a result of their metallurgical work on the Chambers French horn, Reynolds introduced a solid nickel-silver trumpet, cornet and tenor trombone as a new Argenta model line. Seemingly based on the large-bore Contempora designs, the Argenta horns were, and still are, some of very few band instruments, other than French horns, made completely of solid nickel silver.
1961: The F.A. Reynolds Company became a wholly-owned subsidiary of the newly formed Richards Music Corporation (aka Richards Musical Instruments, Inc.), which was led by Paul E. Richards, financed by Wurlitzer and based in Elkhart, Indiana. Heinrich Roth remained head of the Reynolds division of Richards Music. (The Scherl & Roth stringed instrument business would be later sold to Conn in 1964.)
As a division of Richards Music, Reynolds became part of the "Roundtable of Musical Craftsmen" (RMC) along with the Martin Band Instrument Co., E.K. Blessing and Flat/Jacks Drums (all owned by Richards Music Corporation). Instruments produced by these companies during the Richards era all bear a RMC shield logo.
Under Richards Music, Reynolds introduced the Medalist trumpet, cornet and trombone, replacing the existing Roth models, in an attempt to take advantage of the sales opportunities created by expanding school band progams (and funding) in the 1960s. In order to produce the anticipated volume of needed student instruments, Richards contracted manufacturing of the Medalist lines to a variety of locations. The presence of "Elkhart, Ind" markings on many models indicates horns that were made at the Blessing factory in Elkhart, Indiana (confirmed by Merle Johnson, former President of Blessing). Other Medalist instruments are marked "Made in USA" and are of unknown origin (if not also made by Blessing).
Paul Rawlins notes that the early student horns produced by RMC/Reynolds were made with low-quality, inexpensive sheet brass. The concept was to put a cheap horn in a durable Samsonite case and sell the package to the student rental market. The approach worked until it was discovered that the low-quality brass used to make the horns could not be repaired without permanent damage to the metal.
1962: RMC/Reynolds was a principal sponsor of the 1962 "The Music Man" Marching Band Competition Festival in Mason City, Iowa, held in conjunction with the premiere of the Warner Bros. motion picture, Meredith Willson's "The Music Man". The first place award, won by the Lockport, Illinois High School Band, included over $5,000 in Reynolds Contempora brass instruments.
Richards Music also sponsored "The Music Man Contest" for individual musicians between ages 8-18, with national, regional and local award winners. "Music Man"-branded Emperor trumpets, cornets and trombones were produced in conjunction with the contest.
1963: On April 1, 1963, Paul Richards resigned as President of Richards Musical Instruments. In a letter to THE SCHOOL MUSICIAN magazine, he writes:
"I have resigned … and am no longer directly associated with the company. I sincerely hope that the company will continue to serve properly the many music dealers and music educators that have honored the company with their business and their loyalties, and will continue to support music educators in every way possible."
Despite Richards' good intentions, Richards Music and the RMC partnerships later dissolved and the various company assets were placed on the auction block. Merle Johnson (married to Virginia Blessing) acquired the assets to E.K. Blessing, restoring it as a family-owned and -run company. Wurlitzer (who had financed Richards Music) retained the assets to the Martin Band Instrument Co., but eventually sold Martin in 1971 to Leblanc, now part of the Conn-Selmer conglomerate. Flat/Jacks Drums was purchased by former owner/founder[?] Ralph Kester.
1964: The assets of the F.A. Reynolds Co. were purchased by Maurice Berlin and the Chicago Musical Instrument (CMI) company; at the time, CMI was one of the largest musical instrument distributors in the world and owned F.E. Olds, Lowrey Organs, Gibson Guitars and several other firms.
As the new owners of F.A. Reynolds, one of CMI's first actions was to pack up and move the company from its long-time plant in Cleveland to a new manufacturing facility in Abilene, Texas (August). With the move to Texas, CMI began the merger of F.A. Reynolds' and F.E. Olds' operations. Production for both companies during 1964-1970 was split between the Olds' plant in Fullerton (350 South Raymond Avenue, Fullerton, CA) and the new Reynolds factory in Abilene (5520 North First Street, Abilene, TX). The trumpet, cornet, horn (except nickel-silver models) and trombone lines for both companies were made at the Olds plant in Fullerton, while the other brasses (plus nickel silver horns) for both companies were made at the Reynolds plant in Abilene. Some low brass parts, particularly tuba and sousaphone bells, were produced in Fullerton and then shipped to Texas for assembly with other parts being made in Abilene.
As part of the merged production, Reynolds expanded the Emperor lineup to include horns and baritones. Olds Ambassador French Horns produced at the Olds plant in Fullerton were rebranded as Reynolds Emperor horns, while Emperor and Ambassador baritones came off the same production lines at the Reynolds plant in Abilene, Texas. According to Bernie Marston, these Olds Ambassador instruments were sold as Reynolds Emperor models in an attempt to keep the dealer networks of both Olds and Reynolds intact. The Reynolds Emperor Flugelhorn was also produced after the move to Abilene and was based on the Olds Flugelhorn Model L-12.
In addition to instrument manufacturing in the Abilene plant, CMI established the Consolidated Band Instrument Service company as a distributor of instrument accessories, including lubricants, oils, grease, etc. for brass instruments.
The Reynolds serial number sequence was reset at 200,000 and instruments were engraved with "Made in Abilene, Texas" regardless of whether they were produced in Abilene or Fullerton.
1965: Reynolds hosted a Texas-themed "Reynolds Round-Up" open house on April 9-10, 1965 to celebrate the new plant in Abilene. Print advertisements from 1965 are "Texas themed" and celebrate Reynolds' new start.
1969: CMI was purchased by conglomerate Ecuadorian Company Limited (ECL), a Panamanian holding company whose principal business was a brewery in Ecuador. A year later ECL became Norlin Industries — "Norlin" was named for Norton Stevens, ECL president, and Maurice Berlin, CMI president.
Merle Johnson recalls that as Maurice Berlin grew older, increasing control of Norlin's operations was given to Berlin's son, Arnold M. Berlin, and his college associates. This ushered in the era of aggressive profit management and ultimately spelled the beginning of the end for Olds and Reynolds.
1970-71: In an apparent effort to trim operating costs, Norlin consolidated all Reynolds and Olds production at the Olds plant in Fullerton and sold the Abilene plant to Conn[5]. In most cases, a basic horn would come off the production line and become either a Reynolds- or Olds-branded instrument based on detailing and finish [cf. the Olds Pinto and Reynolds Ranger trumpets made in the early 1970s]. Reynolds instruments made in Fullerton after this point are engraved with "Made in USA".
The sales level of Reynolds instruments was maintained with emphasis on the established reputation for quality combined with strategic introduction of special features like high-register models, 1st valve trigger and even an ebony lacquer finish option on trumpets at one time.[6]
Mid 1970s: The Reynolds catalog changed considerably in the 1970s as both Olds and Reynolds continued to merge all aspects of operations. The basic product lineup consisted of Contempora, Emperor and/or Medalist models, as well as other specialty models that appeared (and disappeared) for short periods of time.
One of the latter lineups was the Onyx line of trumpets, cornets, trombones, flutes and clarinets produced at the Olds plant from ca.1974-76. A "black nickel" finish contrasted with the nickel silver used on the tuning slides and valve tops/caps. Based on model numbering and documented serial numbers, it appears that the nickel-plated Onyx line was introduced as a cheaper manufacturing replacement for the more difficult and expensive solid nickel-silver Argenta model line (last seen on a 1973 price list) The Emperor models were also nickel-plated at this time.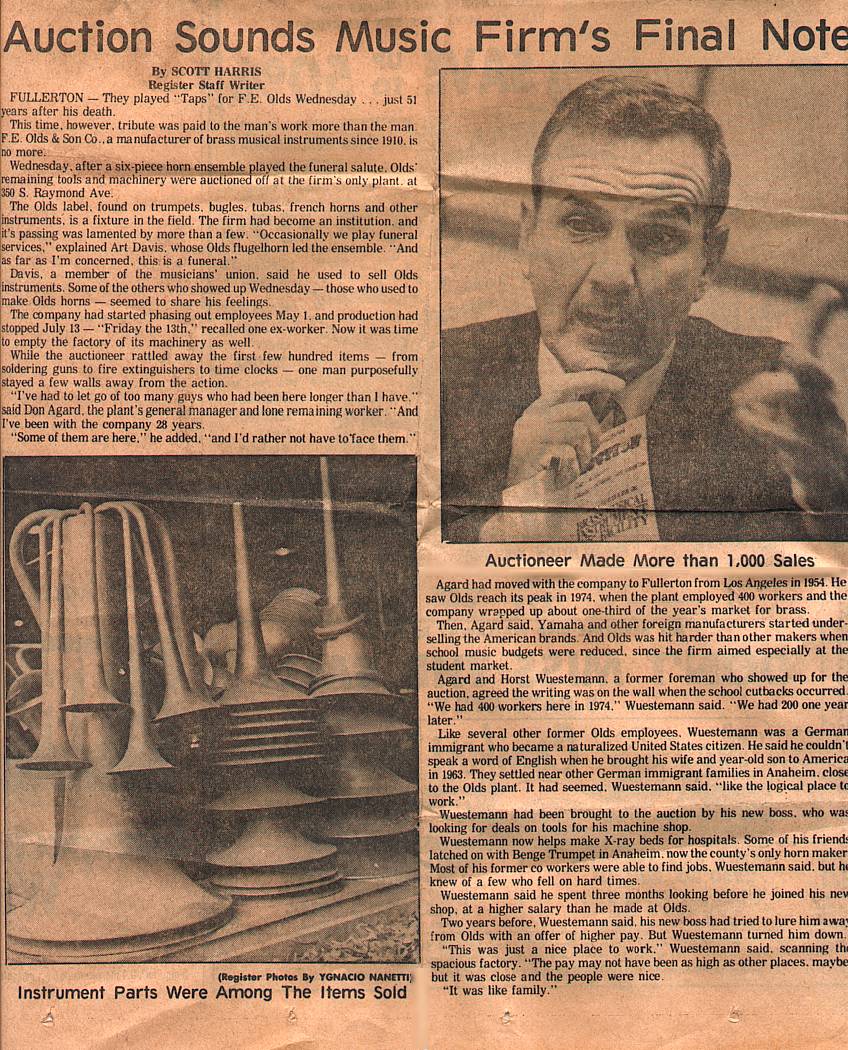 1978: The Olds/Reynolds business was placed up for sale, but Norlin was unable to attract any bidders.
1979: Finally unable to compete in the changing market dynamics of low-cost foreign competition and decreasing school budgets, production officially stopped at the Fullerton plant in July 1979 and all remaining equipment and parts were auctioned off in November.
At the auction, Allied Supply Corporation (now Getzen) purchased a ten year supply of all parts except for bugles – some parts remain available even today. Selmer/ Bach purchased tooling for all marching brass and large horns, e.g. baritones, tubas, etc. The Olds and Reynolds trade names were purchased and are marketed by their current owner (P.J. Laplaca Assoc., Ltd.) with manufacturing based in Elkhart (Blessing), Holland and other locations.
---
[1] Cleveland Plain Dealer, March 20, 1936. Page 20. Article written by James G. Monnett, Jr.
[2] Cleveland Plain Dealer, May 29, 1940. Page 13. Article written by James G. Monnett, Jr.
[3] Richard Dundas, Twentieth Century Brass Musical Instruments in the United States.
[4] Cleveland Plain Dealer, July 24, 1946. Page 7.
[5] Conn moved their professional brasswind production from Elkhart, Indiana to the fomer Reynolds plant in Abilene. Conn operated the Abilene plant from 1971 until 1986 when production was moved to the former King plant in Eastlake, Ohio as part of the new United Musical Instruments (UMI) corporation (now Conn-Selmer). Conn historians are quite critical of the variable quality of the instruments produced during the Abilene operation.
[6] Richard Dundas, Twentieth Century Brass Musical Instruments in the United States.